Regulated Rents Are Going Down in New York City
05.05.2023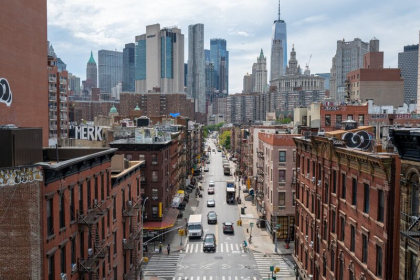 The increase proposed by the Rent Guidelines Board amounts to a decrease when adjusted for inflation — the 10th in a row
This week, the New York City Rent Guidelines Board voted tentatively to give rent-stabilized tenants an unprecedented 10th consecutive real annual rent decrease.
This is not how it was reported in the media, including Bloomberg News, where the headline was "More Than 1 Million NYC Apartments May Face Up to 7% Rent Hikes." That's the upper end of the range for two-year leases; the range is 2% to 5% for one-year leases, meaning the likeliest increase when the board makes its final decision in June is 3.5%.
The inflation rate over the past 12 months in the New York metropolitan area has been 4.6%, hence my argument that this amounts to a decrease in real rent. That isn't something the board has granted very often through the decades, but it has certainly become the norm lately.
The shift in Rent Guidelines Board behavior since 2014 is even clearer when you compare cumulative increases in rent and consumer prices. They had tracked each other closely since 1970 but parted ways over the past few years.
I thought about using the inflation data and rent increases to construct a chart of hypothetical real stabilized rents, but given that the New York City Housing and Vacancy Survey conducted by the US Census Bureau every three years (the last one was delayed by the pandemic) provides estimates of actual median stabilized rents since 1996, it seemed better to use that.
The annual increases approved by the Rent Guidelines Board aren't the only determinant of stabilized rents. Rent increases for improvements made by building owners also play a role, as does the changing mix of stabilized apartments. But the marked rise in real rents from 2005 to 2014 clearly had something to do with the higher-than-inflation annual rent increases granted most of those years by the Rent Guidelines Board, and the moderation since 2014 — which I'm guessing will be followed by an inflation-adjusted decline in the survey being conducted this year — with the lower-than-inflation annual rent increases since then.
In setting the annual increases, the board is supposed to consider economic conditions, owner operating costs and inflation, "among other things." That leaves a lot of leeway, and with the board appointed by the mayor — albeit with staggered terms so there are holdovers at first from the previous administration — its decisions tend to be at least somewhat responsive to the mayor's views. That was certainly the case in 2020, when the Rent Guidelines Board staff recommended an increase of 2.5% to 3.5%, Mayor Bill de Blasio called for a rent freeze, and a freeze was what rent-stabilized tenants got.
Partly as a result, net operating income for buildings with rent-stabilized apartments fell 7.8% in 2020 and 9.1% in 2021, according to the Rent Guidelines Board. It had risen every year from 2004 through 2017, is up 49.9% after inflation since 1990, and averaged $576 a month per unit in 2021. Rent stabilization clearly isn't driving landlords into bankruptcy, at least not on average.
These figures do not, however, incorporate the cost of acquiring a building, or the opportunity cost of not tearing it down and putting up a bigger one, converting it into a co-op or condo, or moving it out of rent-regulated status. The latter was possible from 1993 to 2019 when the rent passed a threshold ($2,774.76 in 2019) and either the apartment became vacant or the tenant had a high income ($200,000 or more in 2019). From 1993 to 2021, the number of apartments covered by either rent stabilization or the older system of rent control fell from 1.1 million to about 1 million even as the overall number of housing units in the city grew from 3 million to 3.6 million, with the increase mostly in owner-occupied or vacant units.
One reaction to this is to blame rent regulation for reducing the supply of rental housing; another is to argue that it needs to be made stronger. The New York state legislature followed the latter course in 2019, passing a law that ended the deregulation of high-rent apartments and added other restrictions on landlords' ability to raise rents or convert apartments to other uses. I'm pretty sure this law bears some responsibility for the big increases in market-rate rents in New York during the pandemic. For tenants of rent-stabilized apartments, it's presumably been a plus, although there are signs that it may be making things tougher for would-be tenants as landlords hold stabilized units off the market.
I should disclose that I am, indirectly, a New York City landlord (my wife and I are shareholders in the cooperative association that owns our building and a few rent-stabilized apartments in it). Also, as a homeowner, I enjoy one of the securest forms of rent control — a long-term, fixed-rate mortgage. I really don't begrudge rent-stabilized tenants a break, and over the past few years many have needed one.
The median household income of rent-stabilized tenants in New York was just $47,000 in 2020, according to the 2021 Housing and Vacancy Survey, compared with $60,550 citywide and $98,000 for those in owner-occupied units (these numbers were all likely depressed by the pandemic). And while lower-wage workers have generally had much bigger wage gains over the past few years than others, low-income consumers tend to be hit harder by inflation because they spend a higher percentage of their incomes.
Keeping the allowed rent increases below the rate of inflation thus makes a certain amount of sense, for now at least. But it still amounts to cutting rents in real terms, and that fact needs to be a bigger part of the conversation around regulated rents in New York.
Последние новости