Found 2 Выбрана рубрика «PHARMACIES, PHARMACEUTICS, PHARMACEUTICAL STORES» в городе Atlanta. .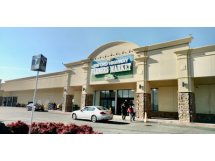 Buford Highway Farmers Market





4.5
О компании: REVIEWS
- Must go to if you in the area! When ever I'm going through Atlanta I make a plan to stop here! One of the best markets I've ever been to! Almost any fruit, veg, fresh tortillas. Big meat section, one of the most impressive fish counters and every region in the world food you can fine.
- It had everything I wan...
Райт Эид (Rite Aid) Атланта #11790





there are no reviews yet
О компании: Магазин и Аптека Райт Эид в Атланте
Часы работы магазина:
Все дни с 8-00 до 21-00
Часы работы аптеки:
Понедельник - Пятница с 9-00 до 21-00
Суббота с 9-00 до 18-00
Воскресенье с 10-00 до 18-00
Сеть магазинов-аптек Райт Эид - один из лидеров в США в категории "лекарства, фармацевтика и товары для здоровья". Компания имеет 4 7...